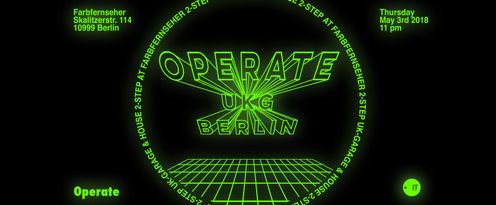 #UKGarage #2Step

Operate - UKG & 2-Step
Date: 03.05.2018
Location: Farbfernseher
For this Operate party we proudly announce Munich's premier UKG division since day one: SWEET

The collective returns again for the 3rd year, joining us at Farbfernseher on Thursday 3rd of May.

Expect the usual: syncopated and skippy beats on a garagey tip all night long - and a warmup that starts at around 128 Bpm.

holla!

TMSN & Ben Mono

AND - please support us on RA: https://www.residentadvisor.net/events/1075684

cheers n out.