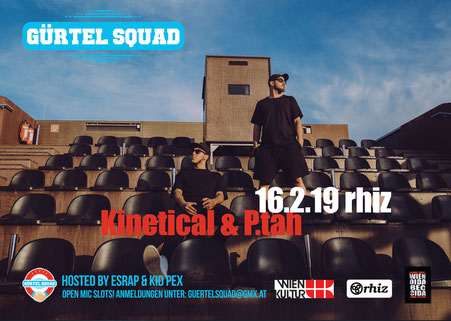 Gürtel Squad 10 - Kinetical & P.tah, Hightauer
Date: 16.02.2019
Gürtel Squad hosted by ESRAP & KID PEX
Live: Kinetical & P.TAH
Support: Hightauer (Synaptic-Showdown) & Dj Kschisch
Aftershow-Party: DJ Meshes To Meshes
Open Mic Session:
For Application please send Email to guertelsquad@gmx.at

***

AK € 7 > 22 uhr
Nach 22 Uhr 9€ AK

***

ABOUT KINETICAL & P.TAH

P.TAH schreibt seit 15 Jahren Raps, produziert Beats und hat in der Vergangenheit mit Hörspiel Crew, B-Seiten Sound, Mirac, Testa, Con und Atomique auf den Bühnen vieler namhafter Festivals und Clubs Österreichs performt. Auf über 35 offiziellen Veröffentlichungen vertreten, ist er Mitbetreiber des Duzz Down San-Labels und veranstaltet mit BLVZE Bassmusic-Parties in Wien. Sowohl beim Auflegen als auch beim Produzieren gilt seine Liebe vordergründig Bass-, Dub- und Grime-Sound.

KINETICAL ist seit Mitte der 2000er als MC und Sänger aktiv und tourte zuletzt als Gast-Vokalist der Berliner Reggae/Elektronik-Combo Illbilly HiTec um die halbe Welt, unvergessen sind viral gegangene Features mit Ruffian Rugged a.k.a Def Ill und General Levy oder Biga*Ranx. Vielseitigkeit ist bei ihm nicht nur ein billiger Slogan, sondern Programm: Egal ob Dancehall, HipHop, Dubstep oder Drum'n'Bass, KINETICAL weiß jeden Style zu meistern, solange die Musik auf Beats und Basslines basiert.

Nach ersten Featureparts und gemeinsamen Liveauftritten wurde schnell klar, dass die Chemie zwischen den zwei MC-Veteranen stimmt. Als erstes gemeinsames Projekt ist die "Ghost"-EP entstanden, auf der sie als Vorreiter im deutschsprachigen Raum eine authentische Variante von Grime zeigen, in der sich P.TAHs deutsch- und KINETICALs englischsprachige Raps in Abwechslung perfekt ergänzen. Beide MCs finden sich zurzeit auf der selben musikalischen Wellenlänge wieder: In der kontemporären Bassmusic nach britischem Vorbild verbinden sich all ihre Einflüsse zu einem kohärenten Ganzen. Versatzstücke aus HipHop, Dub, Garage oder Dancehall finden in der elektonischen Subkultur ganz natürlich ihren Platz und enfalten live ihre Wirkung. Den Beat für die erste Single "Done" steuerte der vielversprechende Grime-Newcomer OH91 aus Bristol bei, die Wiener Bassszene ist mit Arbeiten von Mirac, Dubape, DMG und P.TAH selbst vertreten.

Bei den gemeinsamen Tracks von P.TAH und KINETICAL stehen die technischen Skills und die Qualität der Delivery im Vordergrund, nicht zuletzt als wohltuender Kontrast zur sprachlichen Beliebigkeit im aktuellen Rap-Mainstream. Dabei kommt den Liveperformances eine besondere Bedeutung zu, die vom Sessioncharakter nächtelanger Sound System-Parties und der Freude am live Rappen beider Protagonisten geprägt sind.

An den Decks werden sie dabei von B.RANKS begleitet, den mit KINETICAL eine langjährige musikalische Reise mit hunderten gemeinsam absolvierten Stageshows und DJ-Sets verbindet. Durch seine Verwurzelung in den Bass-Communities in Wien und Linz, sowie die Zusammenarbeit mit P.TAH bei der Eventserie BLVZE war die Begleitung des Projekts als Live-DJ nur logisch und konsequent.