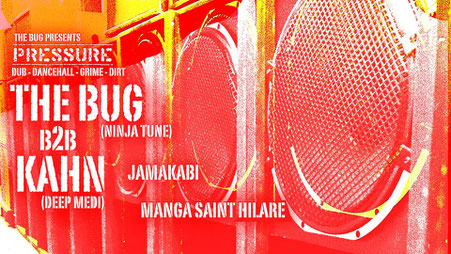 The Bug presents: PRESSURE

The Bug (Ninja Tune) b2b Kahn (DEEP MEDi)
Jamakabi
Manga Saint Hilare

Pressure: Grime, Dub, Dancehall und Dirt.

Die Pressure-Nächte sind immer außergewöhnlich. Producer-Legenden und gefeierte Newcomer auf der Bühne, ein wilder Clash der Genres, der die Luft zum Wackeln bringt, und Gäste, die aus ganz Europa für dieses Spektakel eingeflogen kommen.

Zum achten Mal lädt das Ninja-Tune-Urgestein The Bug seine Gast-DJs ins Gretchen ein und zum achten Mal bauen wir dazu sein massives Soundsystem bei uns auf. Dieses Mal holt er den international gefeierten Bass-Music-Durchstarter Kahn aus dem Hause Deep Medi nach Berlin.

Wer sich Kahns große Bandbreite anhören möchte, dem sei der BBC Radio One Essential Mix wärmstens empfohlen, den er mit seinem Producer-Kollegen Neek vor zwei Jahren ablieferte. Deep, eklektisch, energiegeladen. Bassmusik hat die Attribute "kultiviert" und "auf die Zwölf" noch nie so gut unter einen Hut bekommen. Als ein besonderes Special werden er und der Gastgeber ein in Berlin noch nicht erlebtes B2B-Set zum Besten geben – und das die ganze Nacht.

Wie für eine Pressure üblich, dürfen die Anheizer am Mikrofon nicht fehlen. Diesmal hat The Bug für den Support am Mikrofon die MCs Manga Saint Hilare und Jamakabi - Teil des Grime-Kollektivs Roll Deep - aus London herangeholt.

Wir freuen uns auf eine großartige Nacht und jede Menge Pressure.