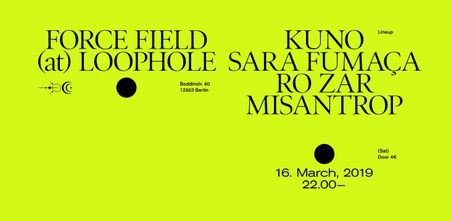 On March 16th, Force Field will forcefully return to Loophole Berlin, this time with very special guests, prime selectors Kuno of Terminal Operations + No Shade's very own Sara Fumaça. The two will play alongside FF residents RO Zar and Misantrop (Foul-Up, Glass Knot), latter of whom will make his live debut on this special occasion.
All night top-tier low-end sounds guaranteed.

————————

Lineup:

KUNO
https://soundcloud.com/kuno79

SARA FUMAÇA
https://soundcloud.com/sara-fumaca

RO ZAR
https://soundcloud.com/ro_zar

MISANTROP (live debut)
https://soundcloud.com/misantrop666

————————

Attend RA: https://www.residentadvisor.net/events/1229502

————————

KUNO

Dario Scarano aka Kuno is a Berlin-Based DJ and producer. Releases on Berceuse Heroique, Tar Hallow and his own imprint Terminal Operations gradually present more and more of Kuno's sound. His mixes reveal his sonic ancestry and influences hailing from Murdercapital/Viewlexx/Bunker style electro and acid to grime, dubstep and early UK bass music.
Get ready to throw some gunfingers in a gleeful misadventure of thick beats, gnarly uncompromising basslines and provocative mixing.
Keep your eyes peeled for Kuno's forthcoming release on 777 Recordings.


SARA FUMAÇA

Originally from Porto, Portugal, Fumaça is part of the Berlin's club night series & DJ training program collective No Shade.
Weaving from global bass sounds to the new hybrid club tracks she provides physicality to the dance floor bringing energetic noisy sets.


FORCE FIELD

Force Field is an event venture gathering the sonic perspectives of selectors RO Zar and Misantrop.
Anything goes—it's a vibrant melting pot of divergent sounds and disparate tempos, orbiting around bass diasporas, off-kilter riddims, the hardcore continuum, a spectrum of euphoria, modern angularity, oddball gems, and further filth. Cheeky fun for the dancers who like to be kept on their toes.

————————

Poster design by Adam Bloch Frandsen.