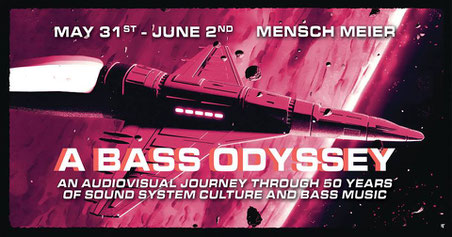 ✧✦✧✦ May 31st - June 2nd, 2019: A Bass Odyssey ✦✧✦✧
an audiovisual journey thru 50 years of sound system culture
https://abassodyssey.com/

Pre-sale tickets are now online:
https://tickets.abassodyssey.com/

2 Nights ❂ 1 Day ❂ Indoor & Open Air ❂ Proper Sound Systems ❂ 40+ Artists ❂ Live Acts ❂ Workshops ❂ Open Discussion ❂ Visual Art ❂ Great Food ❂ Chill Space ❂ X-Amount of Vibes!

Powered by:
A Bass Odyssey ✺ Lion's Den ✺ Mensch Meier ✺ Steppas Records ✺ Serendubity ✺ Sisters of Reggae ✺ Roots Daughters ✺ Audiomassive ✺ DARK REAL DARK ✺ Hotta Riddims ✺ Vétomat

dub ❂ steppas ❂ roots ❂ dubstep ❂ rootstep ❂ jungle ❂ drum'n'bass ❂ dubwize ❂ reggae ❂ halftime ❂ future dub ❂ garage ❂ grime ❂ bass ❂ and everything inbetween!

A Bass Odyssey returns to Mensch Meier for another 2-day, bass music extravaganza, from Friday May 31st - Sunday, June 2nd! For this special occasion we've put together another top-notch line up, featuring some true heavyweights of the international sound system scene!

The "full" line up can be found here:
https://abassodyssey.com/events/festival/line-up/

✧✦✧✦ Friday, May 31st ✧✦✧ 23:00 ✦✧✦✧
Steppas Records Showcase ✺ A Bass Odyssey Festival ✺ Part 1

On Friday night, the Steppas Records family – featuring Dub Dynasty, Alpha Steppa, Ras Tinny & JahYu – will present their unique take on UK Steppas & Dub. With a common musical history dating back to the mid-80's, they've had a large impact in shaping the modern sounds of dub; always putting emphasis on a deeply spiritual and uplifting musical journey. Meanwhile in the Räuberhöhle, the DARK REAL DARK crew will be out in full force, with a versatile lineup covering a wide range of styles – from Grime & UK Bass to Jungle & Footwork, while the Sisters of Reggae – the UK's first all-female, all-vinyl reggae crew, with support from our local Roots Daughters collective – will be taking us back to the roots with a top shelf selection of early reggae, ska & rocksteady.

✧✦✧✦ Saturday, June 1st ✧✦✧ 16:00 ✦✧✦✧
Workshops & Open Air ✺ A Bass Odyssey Festival ✺ Part 2

Before the journey continues on Saturday night, you'll have the opportunity to lounge to some nice beats in the "Secret Garden" with the Serendubity crew, take part in one of our several workshops (such as sound system construction, a live-dubbing workshop or silk-screen printing), or participate in an open forum about sound system culture, before the fun continues on Saturday night!

✧✦✧✦ Saturday, June 1st ✧✦✧ 22:00 ✦✧✦✧
Heavyweights of Dub ✺ A Bass Odyssey Festival ✺ Part 3

For the final part of the journey, we've invited none other than The Bush Chemists & Culture Freeman (UK), who over the past 25 years have released a number of iconic dub albums on their Conscious Sounds imprint, such as "Light Up Your Spliff" (1996). And hailing from Italy, Moa Anbessa & Prince David have created a solid reputation over the past 2 decades, with their quality output on their self-titled label – which regularly receives the support from a number of the scenes biggest names – and a busy tour schedule which has recently seen them at many of the EU's major sound system gatherings. Next door, the infamous Berliner Audiomassive Crew will be bringing the heat with a quality selection of Jungle / Drum & Bass, while in the Theatre, the Hotta Riddims crew will provide some proper digital rub-a-dub vibes!

And as always, full-frequency sound reinforcement will be provided by the Lion's Den Sound System on the main floor, as well as a high-quality L-Acoustics Audio installation in the Räuberhöhle!

For more info about the artists, crews, location and tickets, just head over to our website!
https://abassodyssey.com/

✧✦✧✦✧✦✧✦✧✦✧✦ INFORMATION ✦✧✦✧✦✧✦✧✦✧✦✧

A Bass Odyssey - Festival
May 31st & June 1st, 2019
Begins Friday at 23:00
Mensch Meier
Storkower Strasse 121
S41/42 Landsberger Allee
10409 Berlin

Artwork by:
Eric Tiedt Illustration

For more info visit:
https://abassodyssey.com/

✦✧✦✧✦✧✦✧✦✧✦✧ Tickets & Entry ✧✦✧✦✧✦✧✦✧✦✧✦

Early Bird tickets are available now:
https://tickets.abassodyssey.com/

Securing a pre-sale ticket not only enables YOU to skip the queue and save some money, but also enables US to pre-finance the event!