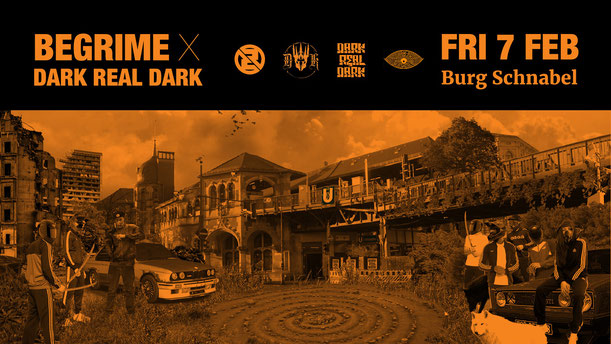 Shortly after I founded Grimelist in 2018, I discovered the event series Begrime. DJ Typewriter, who is behind the project, started a club night focusing on deep, dark, grime and sub bass. "Begrime aims to reflect the roots of grime's sonic soundsystem heritage", as he stated. The first event featured Rapture 4D and took place on June 8th 2018. Since then there have been a handful of events with artists like Proc Fiskal, Bloodklart Fiyah Mandem, Ghaastly, Rakjay and Hypho. So far, the events mainly took place at Panke, but this Friday it's in Kreuzberg at Burg Schnabel. This time London's Jamakabi, who sees himself as a "Dancehall flavoured Grime emcee/artist" will perform alongside JLSXNDR7S from the Netherlands and Sun People from Austria. Jamakabi was, like Flowdan (Interview), part of the legendary Roll Deep group. So he has been part of the grime scene since the beginning. Furthermore the producer JLSXND7RS has steadily established himself as the de facto kingpin of Dutch grime. The producer has earned plaudits from Red Bull Music and The FADER as well as prominent radio DJs: Sir Spyro, Slimzee and Logan Sama. Furthermore Sun People will perform in Room 2, which is hosted by the Dark Real Dark collective. He has been merging footwork, jungle and UK Hardcore Continuum influences to create his own distinctive sound. The whole event is supported by the Dark Real Dark Crew and the Begrime Resident DJs.
At Grimelist we recently started a side-project focusing on new grime releases. You can find the latest Grime & Drill tracks on our Spotify Playlist. However, we currently focus on more popular music and are therefore super interested in what might be played at 'Begrime X Dark Real Dark' on February 7th. (Tickets still available here.)
We asked DJ Typewriter to tell us something about his personal Top 5 Releases in 2020. 
01.
Mic lord - Mayhem NODB & mystry
DJ Typewriter: Two of Brum's finest kicking off 2020 with a solid release. Been in every set Ive played this year so far.  
02.
Killstreak - Discarda, irah, Kahn
DJ Typewriter: Legendary MC'S & producer Kahn with some bass heavy weightless style grime. 
DJ Typewriter: Vintage sublow stomper, just out in 2020. 
04.
frontline remastered - Big ed
DJ Typewriter: An all-time classic instrumental remastered and retouched. The original is in one of my first mix's I put online. This will be a regular this year. 
05.
tek dat - Audio slugs, SBK, Manga
DJ Typewriter: Roll Deep don Manga alongside young king SBK unite 2 genertations of grime with sick production from Audioslugs. 
---
The latest Grime & Drill releases in one playlist:
---
UK Grime Event Updates
auf Instagram:
---