Die Wiener Rapper Kinetical & P.tah gehen auf Österreich Tour und stellen ihre brandneue "GHOST" EP vor. Support by B. Ranks.

Vienna Grime MCs Kinetical & P.tah go on Austria Tour and present their new "GHOST" EP. Support by B. Ranks.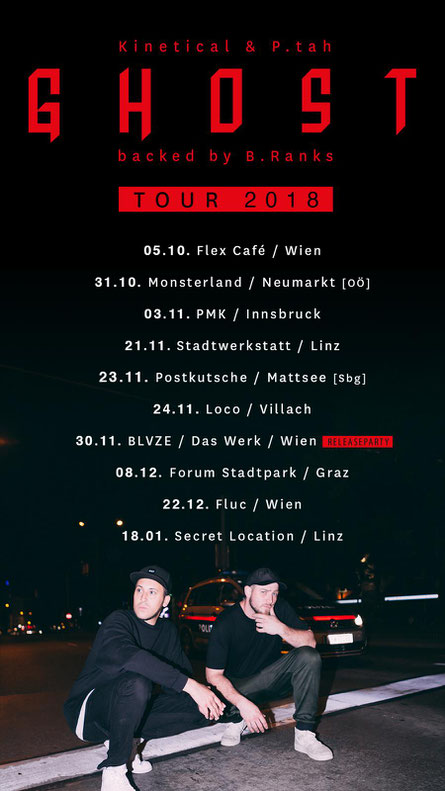 KINETICAL
Kinetical has cultivated his versatile vocal proficiency since the early 2000's - coming from and still proudly supporting sound system culture. Taking up his craft with a journey through Drum and Bass as well as Dancehall, sourcing his instrumentals straight from the Jamaican source. Soon after he's teamed up with B.Ranks - operating their 'Nattyloop Hi-Fi' sound system, progressing from Dancehall/Reggae to Dubstep and UK Bass, which later on became their main passion. Regular hostings in Vienna through the likes of Klub Sir3ne as well as the legendary 'No Bass No Fun' parties in his hometown have lead him to the forefront of Austria's bass culture. Since then he's released with a quality array of talented artists from the world, including vinyl outings. His debut album 'Kineticore' set fire to the scene in 2015 and is still going strong - also having released and toured with the Berlin-based band 'Illbilly Hitec' throughout Europe and Mexico. Back from the extensive touring, he's dropped his first edition of 'My Own Thing' grime mixtapes and started working on a collaborative project with Viennese veteran P.TAH, due to be released on Duzz Down San this year. You can catch him on the microphone on Dub, Dubstep, Grime, Drum & Bass and Jungle parties all over the country as well as with his long-time business partner in crime B.Ranks on the controls.
P.TAH
P.TAH - musical fire emerging out of Europe's inner center. The Austrian MC and producer's rise to inter-national acclaim in the music scene has firm roots. Performing live shows at countless reputable national festivals and clubs since 2005, he's also built up a considerable discography - spanning over a decade of quality music output. Shining through with a selection of talented artists and co-running the excellent Viennese imprint Duzz Down San.
With a two-decade strong background in Hip-Hop, his german vocal style has been honed in a variety of styles. The intricate rhythmic display perfectly pairs up with his passion for quality lyrics, down to the last word. With 'Leng EP' he's pushing the envelope into the modern electronic territory of UK-based bass music styles - be it Grime or Garage. Working together with immensely talented producer Lost Tourist as well as heavyweight Grime artist DMG and a bonus track with label crew Kapazunda. Coherently enveloping a multitude of styles, from up-front rollers like 'Push', 'Kein F' or 'Einige Dubz' to laid-back weights of 'Comfortzone' & Hip-Hop throwback 'Cut Up & Collage'. This is not your run-off-the-mill music, this is the 'Champions League'.