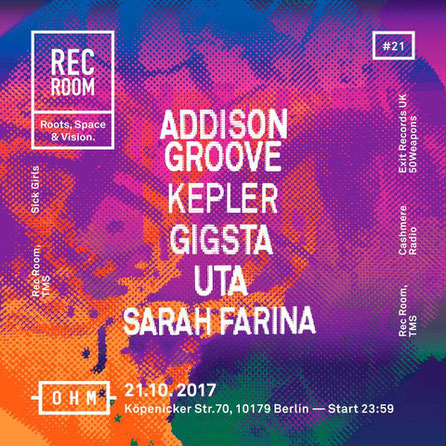 #UKBass #Jungle #Grime

Rec Room #21 w/ Addison Groove, Kepler & Gigsta
Date: 21.10.2017
~ Roots, Space & Vision ~
"We want to show you what we love about music without any other boundaries than our own restless minds."
Line-up for Rec Room #21:
ミ Addison Groove (Exit Records UK | 50Weapons)
ミ Kepler (Sick Girls)
ミ Gigsta (Cashmere Radio)
ミ Uta (Rec Room, TMS)
ミ Sarah Farina (Rec Room, TMS)
RA ♥ www.residentadvisor.net/events/992625
Celebrating its 4th anniversary Rec Room invites one of the top producers on the scene, Addison Groove. An innovator transcending genres, from UK bass to Chicago juke and rump shaking electro, with seminal releases on labels like Tempa, Tectonic, Swamp81, 50Weapons, Exit, and his own Transistor imprint. Get ready for Addison Groove to play one of his fantastic booty shaking, head nodding sets.
Joining him will be Berlin-based music activist Gigsta. Digging deep into breaks, beats and bass, she spreads her experimental approach as journalist, academic, and with her monthly Fictions show on Cashmere Radio. Needlessly to say she's a compulsive record collector as well.
Spearheading this very special anniversary edition will be the real OG crew: Rec Room hosts Sarah Farina and Uta will be joined again by co-founder Kepler, one half of Berlin's infamous Sick Girls. With their monthly shows on BCR, or mixes for ByteFM or Radar Radio, as well as participating at in-depth music panels, or plainly by extensively gigging around, they keep championing their bass-heavy stylings from grime and footwork to weighty steppers and oldschool jungle throughout Berlin and beyond.
🎨 Artwork by Super Quiet
______________
And always remember:
Good Vibes Only ~ Show Love ♥
#RainbowBass #EmbraceTheBass #RootsSpaceVision #MusicEducation