An introduction to the local scene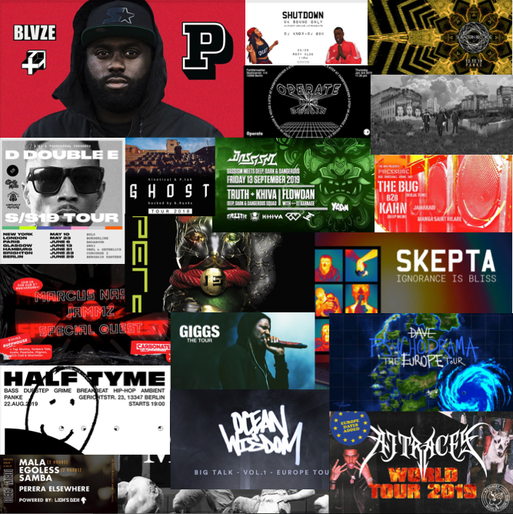 Two years ago it was impossible to find upcoming UK Grime events in Berlin. I couldn't find anything useful on the internet. For someone who doesn't know any promoters or DJs, it was even harder to find out if there are any events at all. So I was very surprised to learn that UK Rap Artists regularly play gigs in Berlin and that there are also a handful of Grime event promoters. The issue was how could we connect Grime fans like me with promoters and more importantly events? 
In April 2018 Grimelist.de went online. Grimelist is an event platform, blog and community for UK Grime related music events. We list events on the website and reach out to Grime fans via our Instagram. The focus was initially only on Berlin, but we quickly extended the concept to other cities. Now, we list every Grime event in Germany and Austria. Additionally we list various Bass music events in Berlin, Hamburg and Vienna.  
Berlin
This year's event highlights in Berlin were the tour gigs of The Streets, Octavian, Slowthai, AJ Tracey, Jam Baxter, D Double E, Dave, Skepta, Ocean Wisdom and Giggs. The nice thing is that every european tour stops in Berlin. Besides the bigger gigs, which are mainly organized by Melt! Booking, there were also club nights with great bookings. The Bug's Pressure event series in Berlin featured Flowdan (Interview), Grandmixxer, Kahn, Jamakabi and Manga Saint Hilare. Beside them there is Begrime with their events focusing on Grime music. We also list events that play music similar to Grime. There were events by Bassism, Bad City, 3feethi, deviate, Planet Reese, Half Tyme, Dark Real Dark, Operate, the Subaltern Record Nights, Hyperdub (Berghain), Reef and A Bass Odyssey.
Hamburg
In Hamburg we listed among others the events of WobWob, Bassment, Bombaclart Bass, Defragment, Grime Hamburg and GrimeGrimeGrime. The latter basically represent Grime in Hamburg. Besides D Double E, in cooperation with 3feethi, there was the event highlight with P Money in December. The event was organized in cooperation with the Stuttgart Grime Crew Tracksuits+Trainers.
Vienna
Of course, Vienna is not in Germany but it's worth covering. Grime legend P Money recently made public that he wants to promote Grime even more abroad. This year, in addition to Hamburg, he has also performed in Prague and eventually Vienna. The viennese event series BLVZE surprises again and again with their bookings. This year, in addition to P Money, Walton, OH91, Sully and Mala have also appeared. Last year there were artists like Compa, Capo Lee, Last Japan, JD. Reid, Sicaria Sound and Kode9. Besides we have an eye on the event series Basstrace, Clubbduzz, Spinback and Shutdown.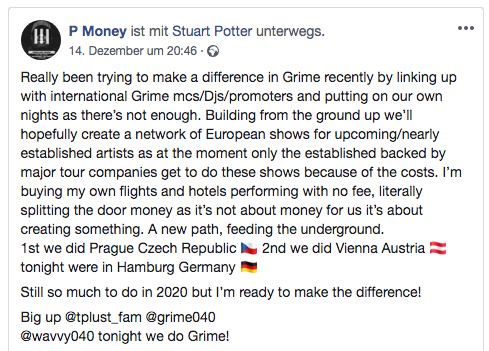 But this year UK Grime was also approached from a completely different direction. The german writer Sibylle Berg has written a novel (GRM - Brainfuck.) with reference to Grime and went on a reading tour with performances by T.Roadz, Prince Rapid and Slix. In addition there were appearances on television. 
What's next?
Several UK rap tours have already been announced for 2020. They include Headie One, Aitch, Stormzy, MoStack, Jay1, Kojey Radical and M Huncho. I also hope that the event series from Berlin, Hamburg and Vienna will return with great events. At Grimelist we are also planning on our next steps. Our hope is to develop the website into an open platform where organizers can easily add their events themselves. Thus we can cover even more cities, as we become aware of more crews around Germany (e.g. Ruffhouse and Ghosttown from Munich, T+T from Stuttgart). Furthermore we want to concentrate more on music updates and present the latest releases (here). 
Do you have ideas on how to improve Grimelist, want to submit your event or even join our Team? - Feel free to leave us a message here.
---
UK Grime Event Updates
on Instagram:
---